Wow.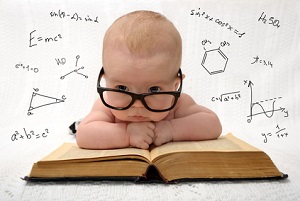 I didn't expect that many people to respond.
But I discovered that a lot of people are passionate about the books they read, and they want to share that passion with others.
Three weeks ago, I asked for your help. I read a ton of nonfiction books each year, but realized that I wasn't applying a lot of it.  They were interesting, but it wasn't changing my life.  So I decided to pick one book and read it twelve times – and I asked for your suggestions.
I got a few comments on the blog itself, a few through Twitter or Facebook, but most came through email or personal conversations. That tells me that I have a lot of introverts in my tribe who have great ideas, but prefer not to put them out there for the whole world to see.  That's OK – I'm one of those.  I rarely leave comments, preferring to have a direct conversation.
I observed something interesting during this process:
I have two groups of readers: those who are more ""business-oriented, and those who are more "faith-oriented." I started the blog originally as a way of staying in touch with people who have attended my seminars (which are usually in business settings) or read my books.  That's the majority.  So we're mostly talking about living an intentional life, no matter what the setting.
There are others who know me personally, and understand that my faith is my worldview that forms the foundation of my life. They can read between the lines and see the spiritual overtones.
Because of my primary audience, my purpose is to converse – not to convert. A blog is an opportunity to have real conversations with real people.
I believe that truth is truth, no matter where it comes from. That's why I read widely, including both faith-based books and others on a variety of topics.
I suggest you do the same. Rich dialogue only comes when we converse with people who have different perspectives.  We don't have to agree with everyone.  But as one person said, "If two people agree on everything, one of them is unnecessary."
So, I received a ton of recommendations from both perspectives. I wish I had room to list them all, but here are a few that stood out (I've added Amazon links if you want to see the descriptions):
The Bible was the most suggested book. I read through that one last year.  Great choice.  I know the author.  Highly recommended.
The Compound Effect (Darren Hardy) was also mentioned often. I had already been considering that one, because I've read it in the past and was impacted by its message – the choices we make have a compounding effect over time, and direct the entire course of our life.  A very practical choice from Hardy, the former publisher of Success Magazine.
Rising Strong was mentioned several times. Brene Brown wrote the bestselling Daring Greatly, and her TED talk is in the top 10 based on millions of views.  Watch her talk to see if it might be a fit.
I found it interesting that most of the secular books recommended had more to do with character than performance – an inside-out approach to living. Those included Credibility by Kouzes, Mindset by Carol Dweck, and The Speed of Trust by Stephen M.R. Covey.
The top suggestions for faith-based books included Left to Tell by Imaculee Ilibiganza (based on the Rwandan Holocaust), The Purpose-Driven Life by Rick Warren, Mere Christianity by C.S. Lewis (I love C.S. Lewis) and the biblical book of Proverbs (a great choice, because it has 31 chapters – one for each day of the month).
An interesting crossover choice was Chris Lowney's Heroic Leadership: Best Practices from a 450-Year Old Company that Changed the World (business principles learned from the Jesuits).
So, which one did I pick?
I mentioned my friend Craig in the earlier blog, and how he reads about 60 books a year. I asked him if he could share his top recommendations.
His response gave me a new perspective on recommending books. He said that when someone recommends a book, it's because the book spoke to them in their current situation so strongly that it had an emotional impact on them.  It touched them, and they want other people to have that same experience.
But everyone is at a different place. A book that impacts me deeply might be great, but it won't have the same effect on you if you're at a different place.  Maybe in six months, it will apply.  But we're all looking for help with our current situation.
The book recommendations of others narrows the field for us. Then we need to pick what's appropriate from there.
So I've actually made a list of all of your recommendations, and will probably be reading through all of them over time. I'm grateful to have your input, and that you took the time to make those suggestions.  That'll be the basis for my reading list.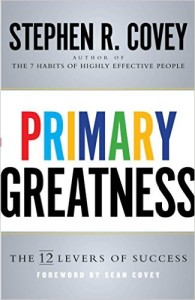 The one book I've landed on for myself for this year, based on where I am in my life, is Primary Greatness: The 12 Levers of Success by the late Stephen R. Covey.
Here's why I picked it:
Dr. Covey wrote The 7 Habits of Highly Effective People (which is one of the courses I teach in various organizations). After his death, his family and colleagues found some of his original writings and notes that he used in preparation for writing the 7 Habits back in the mid-80's, but they were never published.  So they collected his thoughts and put them together in this book.
Dr. Covey believed that there were only two ways to live: a life of primary greatness or a life of secondary greatness. The rewards of primary greatness – integrity, responsibility and meaningful contribution – far outweigh the superficial rewards of secondary greatness – money, popularity, and the self-absorbed, pleasure-ridden life that some people consider "success."
Seems like that would be some interesting food for thought – and discussion. It's that "inside-out" approach to living a life of integrity.
I'll spend time on it this year, and write occasionally about what I'm learning. Will it be an awesome read? I don't know, but I'm going to give it a shot.  You can join me if you'd like – or just stay tuned for insights over the rest of the year.  (I picked up the hardback edition so I could focus differently than other books.)
So, thanks for your help. If you pick a book to focus on this year, I'd love to know what it is – and what you learn during the process.  I so appreciate the conversations we're able to have, and what I learn from you.
Let's get started!
Do you have a book you're going to focus on this year?  Share your choice in the comments below . . .