What if you didn't know your limitations?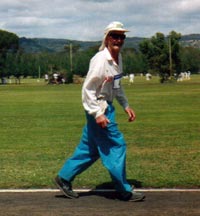 Cliff Young was a potato farmer in Australia.  That's all he had ever done his whole life.  He worked the family farm, which was huge – about 2000 acres.  They also had about 2000 sheep on the farm.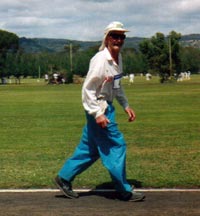 His main job growing up was to herd the sheep.  Since they didn't have sheepdogs, he had to do it himself.  So he would round up the sheep on foot – running – because it was just the easiest way.
Sometimes he ran constantly from dawn until dusk to get the job done.  On a number of occasions, he ran for 24 hours – all night long – to prove to himself that he could do it.
He knew he was good at running.  It was in his blood.  But one day, he heard about a race taking place in his area.  It was called an UltraMarathon, which covered 544 miles from Sydney to Melbourne.
He knew he could cover the distance, but he was really slow, and had an unusual way of running – almost loping or limping.  He had never even seen a professional race – but decided to try anyway.
The good news?  There were only 6 other participants in the race – but people who had been racing for years.
The bad news? He was 61 years old – decades older than the others.
On the day of the race, he showed up wearing overalls and rubber boots.  Everyone made fun of him.  But that's what he had always worn to run, and that's how he would run this race.
After the starting gun, he was immediately in last place.  But he managed to keep the other runners in sight.  As the first day progressed, they pulled away and he found himself running alone.
Jump to the finish line.  Five days, 15 hours and 4 minutes after he started, he finally crossed the finish line.  He was sure he was in last place.
But he was wrong.
He came in first place.  And he beat the other runners by two full days.
Later, he found out why.  Since he didn't know anything about racing, he didn't know you were supposed to stop and sleep at night.  So he kept running with that slow pace and awkward gait – and unknowingly shuffled past his faster, younger competitors — while they were sleeping.
————————
What would happen if we took our life challenges, watched how other people handled the same challenges — and did the opposite?
Speaker Jim Rohn used to say that we should find someone who had great success — but blew it.  Then offer them cash and say, "Here's some money.  Please teach me everything you did to mess up your life so I can avoid doing it."
I like that.
Watching others could be a great resource for moving in some real positive directions.
Everybody has areas in life that they struggle with, and they're not finding success.  What if we did the opposite?
Everybody has dreams, but many have given up because those dreams seem too hard.  What if we did the opposite?
Everybody has a challenging relationship that's important to them, but avoid communication.  What if we took the risk and did the opposite?
Here's my thinking:
If we do what most people do, we'll get the results that most people get.
If we do the opposite of what most people do, we might get the opposite of what most people get.
The late motivational speaker Earl Nightingale said, "If you want to be successful in life, simply watch what most people would do in a given situation, and then do the total opposite.  Nine times out of ten, you'll receive greater rewards."
Hmmm . . .
I'd love to know your thoughts.  How about if we try it for a couple of days — doing the opposite — and see how it goes?  Then we can bounce it around in the comments section, and learn from each other.  Send this to friends to get their input, too.