Let's start with the most important thing: Today is launch day for my book, Dealing with the Elephant in the Room: Moving from Tough Conversations to Healthy Communication
.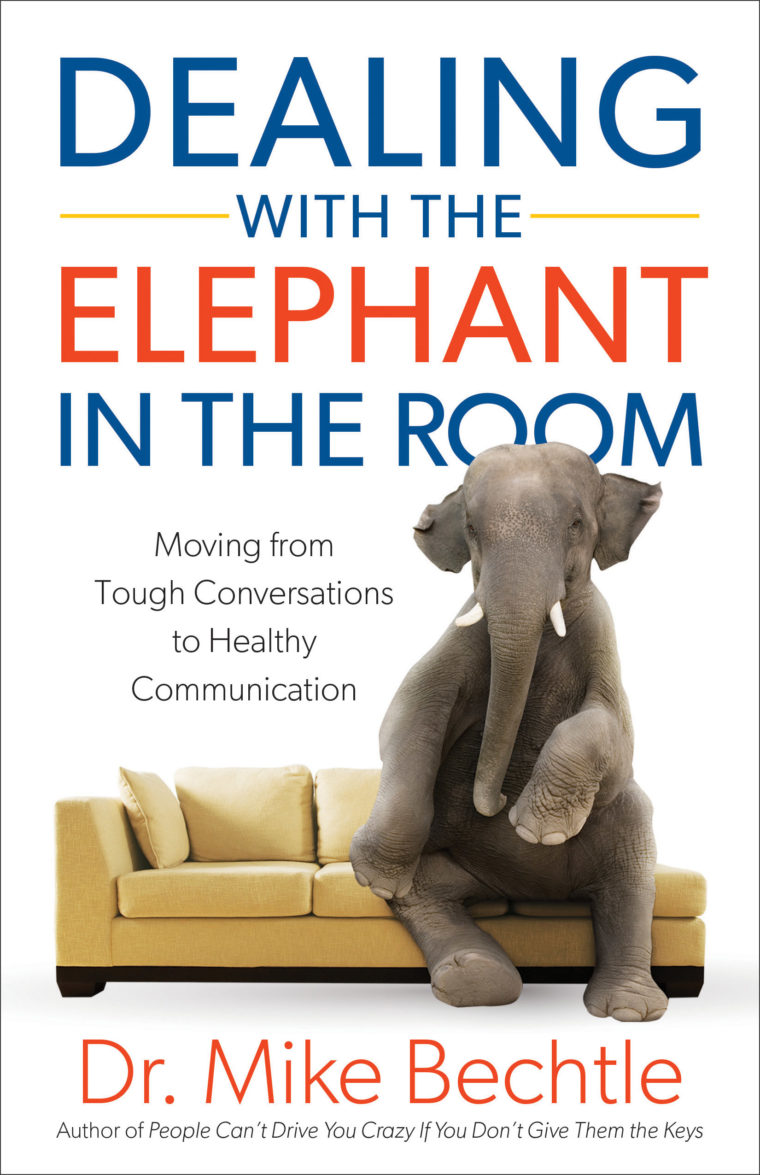 Today would be a great day to pick it up.
Or not.
The reason to get it today is that a strong launch gives a book more quick exposure, which builds momentum. If it's a helpful book, it's a chance to get it into more hands so it can help more people.
So, it would be great if you could:
Pick up a copy or three on Amazon or your favorite online retail outlet.
Share this post with your "tribe" through your social media accounts, and encourage others to do the same.
There is one reason, though, why you might want to pass it up:
You might already have it.
Here's the scoop: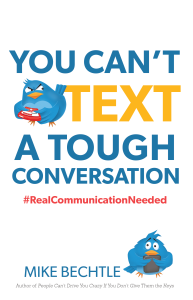 A couple of years ago, Revell published my book You Can't Text a Tough Conversation: RealCommunicationNeeded
.
It was a book about learning to communicate effectively when conversations get challenging and uncomfortable. But people read the title and thought it was a book about the evils of social media, and how it messes with our relationships.  Even the media interviews I did focused on technology, not communication.
People agreed strongly with that idea, but they didn't need a book to tell them.
So they said nice things about it, but didn't buy it.
I approached my publisher and asked if we could make a change in the packaging so it would be more accurate. They had already been thinking that direction, so they agreed.
The result? The book that's launching today – Dealing with the Elephant in the Room: Moving from Tough Conversations to Healthy Communication
.  It's a revised version of that original book. So if you bought that one, you might not need to get this new one (though it's a little different).
But you can still spread the word . . . which I would deeply appreciate.
I just read through the book again. It's been awhile, so I wanted to see what I said.
Here's the interesting thing I discovered: It's a really good book. In fact, I think it might be the most helpful book I've written.  When the focus was on technology, it was an OK book.  But now that the focus is on communication, it was a surprisingly helpful read.
If you're challenged by tough, uncomfortable conversations, I think you'll find some real help here. It's full of practical tips and advice of what's needed to build your conversational toolbox, and how to use those tools effectively.
Know someone who's struggling in a relationship? This could make the difference for them.  It's simple, it's practical, and it's proven.  It's not stuffy (as evidenced by the cover).
So, this isn't just about making a book successful (though that's part of it). It's about getting a tool in the hands of people who are stuck in their relationships.
——————–
That leads to the second part. I've been "on recess" for the most part over the past year.  There has been a lot going on – from job changes to multiple surgeries and a few other things that make life interesting.  So I've really missed connecting with you in this way.
But it's time to come back.
There's a new website coming in a few weeks (I actually hired an expert). It'll be our "coffee shop" where we can connect about life.  I'll be your barista, and you can drop in anytime.  I'm looking forward to that.
I'm also jumping back into this blog again. So, you can expect to hear something about once a week.  (If you'd like to receive these posts automatically, sign up at the top of this page.)  You're going to help pick the topics.  It's a dialogue, not a monologue.
And I'm working on the next book proposal. You'll be part of the writing process on this one.
I also stuck my toes in the Instagram pool today. If you're on there as well, we can go exploring together.
This "season" has helped me see how much I enjoy writing and connecting. So I'm looking forward to having you along on the journey. It's a privilege, and I'm grateful that you're along for the ride.
Now – go spread the word about elephants . . . and we'll talk again next week!