Someone sent me a "Friend" request on Facebook the other day. 
Should I accept it?
According to my Facebook page, I already have 296 friends.  Do I need more?
Some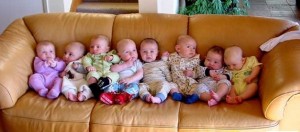 are people that I'm close to and see daily or weekly.  Some are people I've worked with, either in the past or the present.  Others are people from my distant past that I haven't seen in years.  I have a close relationship with some, while I've connected with some out of curiosity. 
Connecting with friends from high school or college usually starts with that curiosity.  We know what they were like in school, and wonder how they've changed.  If we're honest, we want to know three things:
Where are they living?

What are they doing?

How much do they weigh?
They're doing the same thing with us.
I've found that there's a subtle comparison that takes place, too.  When I look at their page, I want to see how many friends they have.  If they have less than me, my self-esteem goes up.  If they have more, my self-esteem goes down.
How messed up is that?!! 
If I had 296 live friends in my real life, I'd never get anything done.  It's hard enough keeping track of the people I do have in my life, giving them the time and attention they deserve.  Technology has made it a lot easier to stay in touch than ever before, which means we feel guilty when we don't. 
So, what are we to do?  I've found an obvious solution, though it sounds callous:
Maybe I need to develop a friend budget.
That doesn't mean one person is more valuable than another.  It means that since time is such a limited resource, I need to budget it carefully. 
It's like doing charitable giving.  There are a lot of charities and causes that I believe in.  But since I only have so much money, I can't support them all.  I have to be realistic about my investments, and choosy about my choices.
It's called opportunity cost.  Whatever we say "yes" to, we're automatically saying "no" to everything else at that time.  Any time and energy I invest in any one person means that time isn't available for anyone else.
That's why it seems important to budget my involvement with people.  It doesn't mean they're less valuable; but there's only so much of my time to go around.
So, how should we budget friends?  I'm sure it's very fluid, but maybe we could prioritize people in six categories:
Immediate

– Our spouse, kids, grandkids – those that represent a lifelong commitment.  These would be the ones we're planning on keeping them until the end.  They get major investment of my time and energy.

Closest

– Our deepest friends, some extended family – people I that we care deeply about and they care deeply about us.  We intentionally seek each other out.  This could include old friends that we rarely see, but we pick right up where we left off each time.  We call to schedule times together.

Close

– People we know fairly well, and have good conversations with when we connect.  We're interested in their lives, and enjoy occasional connections to catch up.

Casual

– People we've met or connected with in the past, and we can have good conversations.  It's genuine, but not intentional.

Transactional

– Business contacts, casual acquaintances, most Facebook connections that don't fit in the other categories.  Good people.

Everybody else
It feels dangerous to post this, because everyone reading will be wondering which category they're in with me.  That's OK – it's not a hard-and-fast set of rules, just a way of thinking to protect the people who matter most in our lives.  People can move up, but space is limited at the top.
It keeps us from being people-pleasers, and from letting people at the top get cheated by those at the bottom.
I'm OK with 296 Facebook friends.  I'll check in occasionally – but then I'll take a walk with my wife, have coffee with my kids, wrestle with my grandkids – and generally make appropriate investments in the people that matter most.
So, that's my idea.  It's not set in stone — it's just an idea.  What do you think?  What would you change? We'd all love to hear your comments (below):