I lost at Monopoly.
And I loved it.
Last weekend, our 11-year old granddaughter, Averie spent the weekend with us. We rotate having all three grandkids, and it was her turn.
It was an amazing weekend.
We finished a jigsaw puzzle.
She and I went to Starbucks at 6:00 AM, and sat outside and just talked while the sun came up. Then we went out to breakfast.
We went to a home and garden show.
She and Grandma made a "spa day," then worked on sewing a skirt together.
She baked. She drew.
Then we played Monopoly.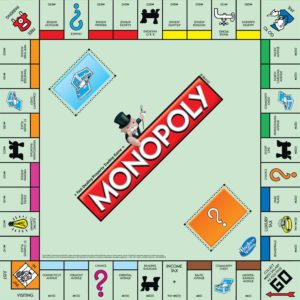 Most people either love Monopoly or hate it. In our extended family, Averie and I are the only ones who really like playing it. She got out the board, set everything up, and the three of us sat down to play.
She managed to buy every property on the cheapest row – from Mediterranean Avenue to Connecticut Avenue. She quickly put up hotels on each property.  They must have been really nice hotels, because I stayed at all of them multiple times.
I managed to buy every property on the most expensive row – from Pacific Avenue to Boardwalk. I couldn't buy hotels because I kept spending my money to stay at Averie's hotels.
Averie won. Grandma and I lost.
It was awesome.
Partway through the game, Averie told us about playing a video version of Monopoly with a friend. She described all the things that happened that were unique.
"When you land on "Go to jail," a big cage slams down over you," she said. "Then a crane picks you up and carries you across the board to the jail square."  She described how different characters move across the virtual board, and the cool things that happen when you draw cards.
It sounded great, and I'd love to try it with her. It would be fun to play it like that and see the clever things they've built into the game.
I thought about that for a few minutes, and realized that I'd still rather play the board game.
When you're playing a video game, you can still talk – but you're looking at a screen.
When you're playing a board game, you can still talk – but you're looking at each other.
I realized why I love playing Monopoly so much that day – because of the dynamics that happen between the people who are playing.
Whenever Averie made a good move, she would glance up at us to see how we were reacting.
We made eye contact. We laughed.  We talked.
We were playful about our facial expressions, acting frustrated when someone hopped right over our best property.
We were being entertained by each other, not distracted by animation.
I spend my life looking at screens. I'm looking at one right now while I'm writing this.  For many of us, it's our default setting.
Screens aren't bad. But someday when I'm gone, I don't want Averie's mental image of me to be where I'm looking at a screen.
I want her to remember me looking in her eyes.
Producers of video content know exactly how to grab our attention with the right kind of graphics and movement and content. It's not that it's bad – but it can easily distract us from what matters most in our lives.
Goethe said, "Things which matter most must never be at the mercy of things which matter least."
We focus on the things that we love and value the most.
Where are you looking?
How will the most important people in your life remember you?
Maybe it's time to play Monopoly with someone who means the world to you . . .