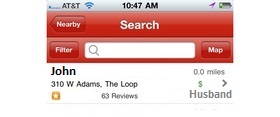 "I've been a regular for a number of years with John. In those early years, he met all my expectations of a husband.  But my recent experiences have caused me to lower my ratings, because his customer service seems to have disappeared.  I married him because he was the strong, silent type; now, he never talks to me.  I admired his strong convictions about the things that bugged him in society; now he just complains about the things that bug him about me.  Unfortunately, I can no longer recommend him as a husband."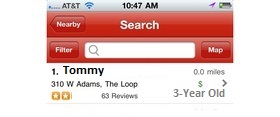 "You would think that after 3 years, a person would learn from their mistakes and correct them. But Tommy still seems more committed to his own interests than the happiness of others.  His performance as a toddler is consistently declining, his social skills have become self-centered, and he has little commitment to our family structure.  It's sad to watch 5-star potential disintegrate to a 2-star review.  We'll keep him for now, but we're disappointed."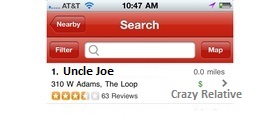 "Uncle Joe? He's crazy. But we made it through the last holiday without him causing a scene.  That's a miracle – and it might have been a fluke – but it's enough to add a couple of stars to his rating."
People go to Yelp to see what other people think about restaurants and services. If the reviews are good, they might consider using that service.  If the reviews are bad, they avoid it.
We all have our "default" restaurant – the one we keep going to when we can't decide where else to go. It's familiar, it's comfortable, and it's safe.  Maybe it's not the greatest food in the world, but it's pretty consistent.
Some days the food might be a little off or the service a little shaky. But we know the place well enough to realize that it's just a bad day for them, and it'll be better next time.
But if someone makes a first-time visit on that bad day, they're incensed. They demand free food, won't pay the bill and write a scathing review on Yelp as soon as they get to their car.  They want to punish the restaurant and protect others from the same fate.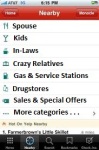 What if there was a "people" category on Yelp, where we could critique our family and friends?
What would we write?
Would it reflect the realities of long-term commitment?
Or would it be an impulsive reaction to a frustrating conversation?
When we talk to others about our spouse, kids or relatives, it's like a Yelp review. What we say shapes their opinion of that person.
It's easy to share our family frustrations with others, hoping they'll reinforce our position. But it's not fair to the family member, because it only gives our perspective.
I'm wondering if there's a guiding principle that applies here, whether it's a restaurant or a relative:
If our review is positive, we should tell the person (so they get the encouragement) – and also tell others.
If our review is negative, we should talk to the person about it – and nobody else.
Thoughts?