We moved into our house about six years ago.  It was a "fixer-upper" – structurally sound with a great layout, but hadn't been updated since the 70's.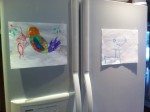 The walls were covered with textured, old-school wallpaper; the orange and brown tile in the entryway brought Woodstock-style flashbacks; the fluorescent lights in the bathroom provided motel-like ambiance.
At least the carpet wasn't shag. (Worn and faded, but not shag.)
The kitchen was the worst. The oven was smaller than our old microwave. The microwave had a mechanical timer like a speedometer in an old Chrysler. Peeling linoleum seemed to match the peeling cabinets, and the sink was . . . well, frightening.
We had more time than money, so we were planning to do everything in the house ourselves. But the kitchen needed went beyond our abilities. We needed help. We needed a professional.
So we hired Josh.
Josh is one of those people whose passion leaks out in their work. He didn't come in with his design expertise and drop a kitchen on us . . .
 . . . He listened.
Somehow, he took what was in our heads and made it happen. Sometimes he would just stand quietly with his eyes closed for a minute or so, forming a design in his head. Then he would grab a pad and start scribbling, show it to us and say, "This is what you want, right?"
It was.
Josh is a perfectionist – but he's also an artist. He supervised the construction to make sure everything was perfect. Walls were moved, doorways were expanded, and the ceiling was raised. Hardwood floors and recessed lighting provide a frame for the room. In the end, it was a showcase kitchen.
We still haven't gotten to the entry tile, and the fluorescent lights still flicker in our bathroom. But the kitchen is a work of art.
So what's the problem?
We've added artwork that doesn't match.
It's on the fridge.
It's from our grandchildren.
And it's our favorite part of the kitchen.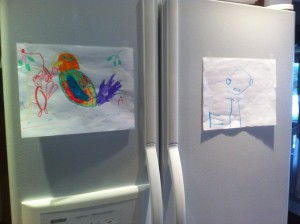 Josh gave us our dream kitchen, and it's a killer design.  But really, he didn't give us a room to admire and showcase; he gave us a tool for building memories – a place where life happens.
In our entryway, people notice the tile.  In the bathroom, people notice the lights.
In our kitchen, people relax and connect.  It's a place of warmth.  Why?
Because of the pictures on the fridge that don't match anything.  Those pictures were drawn by our favorite little artists, who put the same passion into their design as Josh did in our kitchen.
Josh understands that more than ever.  He and his bride bought a fixer-upper, and have been rebuilding it over time.  When it's finished, I'm sure it will be a masterpiece.
But they also just had their first baby.  Which means it won't be long before they have pictures on their fridge that don't match anything.
And those pictures will be the first thing they show their guests.
They're a reminder of what matters most.
Comment below – or scroll up to "Leave a comment" under the title at the top.