Today, I'm breaking all the rules.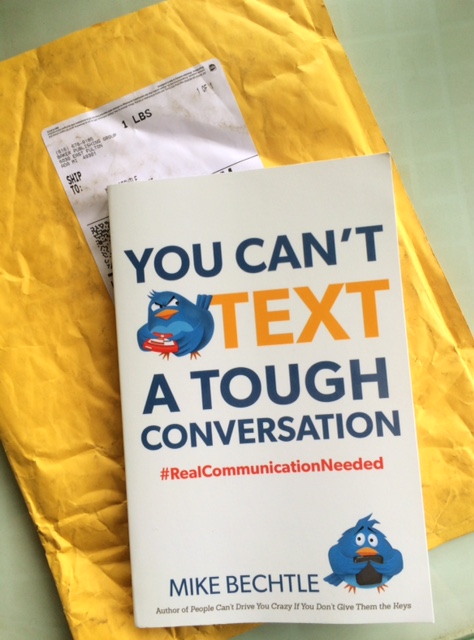 I'm launching my new book without fanfare. No parades, no book tours, no carefully-orchestrated campaigns.
I'm ignoring the many promotions I receive about how to make your book a New York Times bestseller by following someone's program.
It's a quiet launch, not a noisy one.
And I'm doing it on purpose.
Writers are often introverts, but they're told they need to become extroverts to get the message out. If you don't have a big launch, nobody will notice.
There are a ton of books being released each day that are clamoring for attention in the marketplace, and they're all shouting, "Hey! Buy me! Buy me!" Success comes to the one who yells the loudest, who makes their voice heard above the others.
It's true. I'm taking a risk.
But this time, I'm choosing to announce this quietly. I'm letting you know in a casual conversation at Starbucks, not in a stadium with a Jumbotron screen.
That's the relationship we have. It's a real one, connecting quietly through words.
I want to respect that.
There's a reason for this quiet launch – the title of the book.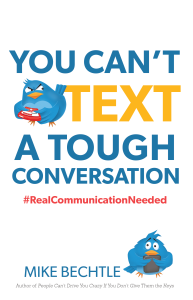 Today, my newest book is available in bookstores and online retailers like Amazon. It's called You Can't Text a Tough Conversation: #RealCommunicationNeeded
. It grew out of seeing people talking less and texting more, and seeing what the shift to electronic communication has done to our relationships.
I love technology. I'm not villainizing it. But technology is a tool. A tool is something we use to do a job better than we can do it without the tool.
Real relationships need real communication. Technology is a great tool when it enhances our communication, but dangerous when it replaces it.
This book is written to get our relationships back, and protect them in the future.
It's about restoring human moments – face-to-face, eyeball-to-eyeball, voice-to-voice. It's about talking first instead of texting.
It's about how to control our technology instead of being controlled by it.
So . . . it makes sense to launch a book like that through real conversation rather than a commercial campaign.
Let's do this. Ready?
The Official Book Launch
My new book comes out today. I think you'll find it helpful.
Please buy a copy and decide for yourself. You can click the following link to find it on Amazon: You Can't Text a Tough Conversation: #RealCommunicationNeeded (it's also commonly found in grocery stores, airport bookstores, etc.)
Read it.
If you like it, take someone to Starbucks and tell them about it. Or buy them a copy. If you don't like it, let me know – I'll refund your money. Seriously.
Share this launch on Facebook or other places where you hang out with friends – so others can experience a quiet launch. Maybe they'll find it refreshing.
Review the book on your personal blog or Amazon. Be honest about it – people need to know what they're getting.
That's it.
I might not sell as many books this way, but that's OK for this one. I'd rather have the word spread through conversations than coercion.
I might do a traditional launch in the future. My next book comes out next summer on August 1, and I might have trumpets and prizes and airplanes carrying banners (the topic lends itself to that).
But for now, enjoy your day. Get some coffee and curl up with a good book for a while.
Enjoy the quiet.
———————————————————————————
"What a fantastic book!  Mike Bechtle is not only entertaining and compelling, his advice is rock-solid and practical.  Anyone who is serious about having healthy relationships – at work or on the home-front – will love this book. Don't miss out on Mike's message."
Drs. Les & Leslie

Parrott
Authors of Saving Your Marriage Before It Starts