I bet you already have an opinion on this, right?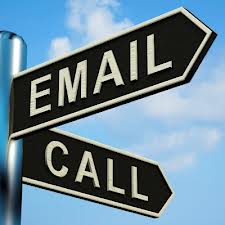 I've heard both sides:
"I'm a phone person.  Email takes too much time, because I can talk faster than I can type.  In a live conversation, we work through the issue and we're done.  If you email me, I'm just going to pick up the phone and call you."
"I'm an email person.  I hate talking on the phone, because I need longer to process something before responding.  Email lets me think, then write – and edit my response to make sure I've thought through it carefully.  If you leave me a voice mail, I'll probably respond with an email or text."
Who's right?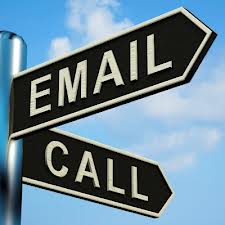 "I am, of course.  They just need to see my logic."
But everybody is different.
Extroverts tend to prefer connecting by phone, because they think by talking.  They usually come up with answers quickly, and think well on their feet.  It just makes sense to them to call, and they can't understand why everyone else doesn't do it the same way.
Introverts tend to prefer email or texting, because they think before communicating.  They have to listen, then process what they've heard before responding.  In a phone conversation, they usually think of exactly what to say about 15 minutes after the conversation is over.
The problem comes when we think our way is better than their way.
It's not.  It's just different.
Most people can do both, but they're much more comfortable with one over the other.
So, what's the solution? Here are some points to ponder:
Recognize that both methods have their strong and weak points.  If you're a phone person, get really good at using email.  If you're an email person, spend time honing your phone skills.  You'll still have your favorite, but you want to be able to do either one as the need arises.
Accept someone else's preference without critiquing it.  They won't change, and you'll get frustrated if you try.  Changing an extrovert into an introvert (or vice-versa) is like teaching a turtle to fly.
Take a customer service approach.  Customer service means you meet your customer's needs, not your own.  If someone calls you, call them back.  If they email you, email them back.  If they text you, text them back.  Notice how they communicate with you most often, and use that method to reach out to them.
Build relationships in person, maintain them electronically.  Don't forget to have coffee with that person occasionally.  Nothing substitutes for being in each other's presence.
Electronic relationships are good for staying in touch between live contacts.  Rotate between phone and email contact occasionally, and Skype whenever possible.  It's not the same as being in person, but at least you see facial expressions.
This might seem like a simple issue that's not worth discussing.  But I've had it brought up dozens (if not hundreds) of times in my seminars, and with fairly strong emotion.  So I figured we should talk about it.
So, how do you prefer to communicate with others – and why? (Of course, if you're a phone person, you probably won't want to write you comment – If we had a call-in number, you'd be all over it . . . !)