Letting someone see your new blog before it's finished is like inviting dinner guests into your bathroom to watch you get ready. It's embarrassing, but at least they know you're on your way.
I've been trying to launch this blog for months, wanting it to be all cleaned up and perfect before the guests arrive. But honestly, I'd rather hang out with you than wait until it's awesome.
In fact, I'm going to let you decide what awesome looks like. Your interaction (through comments) will steer what we talk about.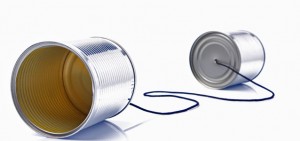 This blog is a way to "continue the conversation." You probably got here because we've connected along the way — you heard me speak, or you've read something I've written, or we've just spent time hanging out together along the way. Maybe someone recommended it. Or maybe you stumbled across it.
But you're here. For me, that's a treat.
This will be a casual, Starbucks-style conversation — a place we can hang out together and talk.
What will we talk about? Mostly communication and relationships.
They really go together, don't they? Don't most of the problems that show up in relationships have something to do with communication?
Your boss wasn't clear on what she wanted, so she was upset when you turned in what you thought she expected.
Your co-worker eavesdrops on your personal conversations from the next cubicle.
You have little rugrats velcroed to your leg all day — who aren't really committed to your sanity.
You have a distant relative who only shows up only on holidays and complains about the raisins in the dressing.
You make yourself absolutely clear, and wonder why the other person misunderstood.
You thought you married Prince or Princess Charming, but now you're outside the castle with a moat full of alligators.
So we'll talk about how to communicate effectively in a way that builds strong relationships. That will also include how to connect in writing, since that's a more comfortable area for a lot of people. We'll probably branch out occasionally, but that'll be a good place to start.
I'll post twice a week for now. I'd love to invite you to come with me on this journey. We don't have a clear destination that we're rushing to; it's more of a road trip where we enjoy the scenery along the way.
So, thanks for dropping by. We're still setting the table, and you can help if you'd like. The chips and salsa are already out — so feel free to munch on the content while we're getting things in order. If you find it valuable, sign up to receive posts by email, and invite your Facebook and Twitter friends to join you. If it's not, let me know what you need to make you stick around. (You can unsubscribe anytime.)
Ready?  Let's go downstairs and get ready . . .