I'm ready for a vacation.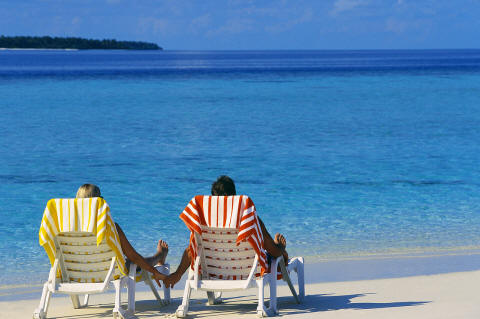 I'm picturing palm trees . . .
. . . and sunsets . . .
. . . and warm, white sand and warm, clear water . . .
. . . and barefoot, hand-holding strolls in the breezy evening . . .
. . . and holding a Kindle instead of a phone . . .
. . . and no alarm clock . . .
But that's not scheduled until October.
In the meantime, I have stuff to get done.  Lots of stuff. 
It's the same feeling I get at the TSA checkpoint at the airport.  My laptop is in one bin, my shoes and coat in another, a plastic bag with toothpaste is in another, followed by my carry-on bag.  They make it through X-ray, and I try to collect them on the other side. 
But more luggage is coming through, piling up, jamming everything forward until it's almost impossible to coordinate it all.  I feel rushed, and people are getting upset because I'm not moving fast enough.
By the time I walk away, my hands are filled with random, unzipped bags – my coat and belt slung over my shoulder – laptop under my arm and shoes suspended from my fingertips.  More than once I've soaked my socks by stepping in liquid someone else spilled doing the same thing.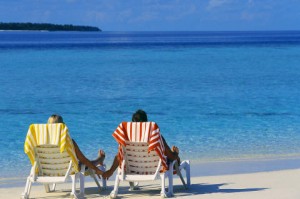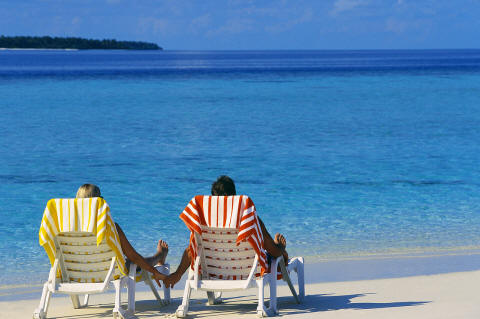 So I find a bench where I can regroup, repack and recover.
Assuming I'm not rushing to catch my plane, I stop for a moment and catch my breath.  Not long . . . just a moment.  I've learned to consciously slow down and get my bearings before moving on.
It's like taking a mini-vacation in my day.
It's easy to get so caught up in all the "stuff" we have to do, that we never stop to catch our breath.  The tyranny of the urgent drives us from one thing to the next.
Stopping briefly and hitting "reset" at the end of stressful tasks can make a huge difference in our attitude about the next one.  Sure, it might take an extra minute; but that stress-relieving minute pays huge dividends in how we feel entering the next project.
Like a real vacation, we come back energized.
And it makes the whole day go better.
Try it a couple of times today.  It'll be tough, because it feels like wasting time while we could be making progress.  But we'll get more done – in less time – if we go on a brief vacation:
Listen to your favorite song – not as background music, but intentionally savoring the selection.

Think of five things you appreciate most about your spouse or one of your kids.

Study something natural around you – a plant in an office, a grassy landscape, or the sound or running water (even if it's coming out of a faucet).

Find a shape in a cloud (it's been a while since you've done that, right?)

Be conscious of the taste of what you're eating for lunch or a snack instead of rushing through it.

Smell your coffee before each sip.

Listen to the tone of someone's voice that you care about.

Take 5 deep breaths.
In other words, use your senses.  That's what vacations are for – to remove the daily distractions so we can notice things we usually overlook.
October's coming.  The vacation is planned.
But I'm taking one today.
You, too?
How do you find space in your day?  Leave a comment.