I played Scrabble with an 88-year old woman – and English was her second language.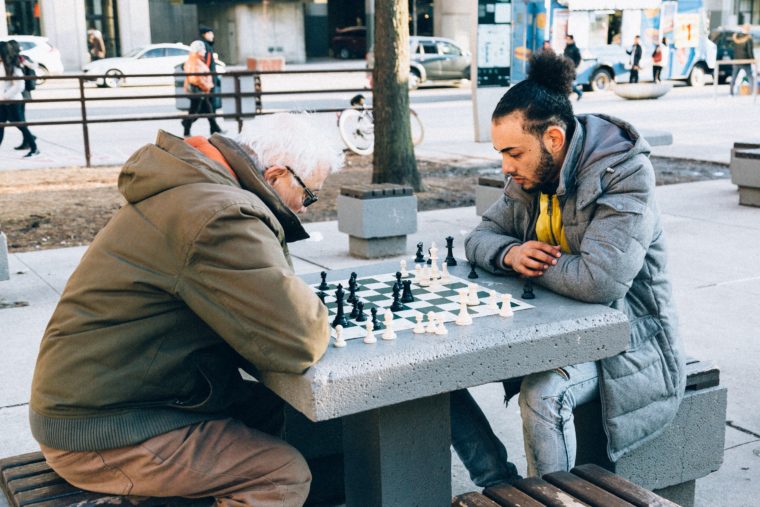 I lost.  Miserably.
I'm pretty good with words, and I do pretty well with Scrabble.  But my daughter's in-laws had invited us over for Thanksgiving, and the game was an after-dinner tradition.  So Angie and I sat at the table and lined up our tiles.
I went first, and proudly placed the four-letter word that jumped out at me.
She emptied her tile rack on the first play, which included a double word score.
I thought it was just a lucky move – but it was a pattern she repeated throughout the game.  I would play my little words, and she would play her big words.
I don't remember the final score.  But I remember being amazed at her skill.
When I asked about how she got so good at it, she humbly said, "Oh, I guess I've always been pretty good at word stuff." She told me about growing up in Mexico, and things about how her family played games.
I forgot she was 88.
She was just a person – like me, like all of us – in an 88-year old body.
She might not be up on the latest technology and might have a more traditional outlook on life.  But we were on the same journey; she was just further down the path than me.
It occurred to me that I could learn something from people who have already traveled the path I have ahead of me.
It's like getting a travel guidebook when exploring a new country.  It gives an overview of what to expect.  I don't have to do everything that's in the book, but it gives me a place to start and what highlights to look for.
Without the guidebook, I might miss some of the most amazing features because I'm ignoring the experience of others who've been there before.
Older people can be tour guides for life.  But they're often ignored because we assume they're out of touch, old fashioned and stuck in their ways.
Sometimes they stop talking because nobody takes the time to listen.  We start thinking that they're older, and slower, and out of touch with things that are "current." We assume that they're set in their ways and wouldn't understand our circumstances, so we have nothing in common.
I've found that the opposite is often true.  They have wisdom that comes from experience, but they won't force it on someone who doesn't value their perspective.
So we miss out.
Older people used to be teenagers.  They had struggles with school, with dating and with self-esteem. They argued with their parents, negotiated with teachers and navigated first jobs.
They had skills and awards and activities that simply brought them to life.
They danced and sang and played.
They had dreams.
They had their hearts broken.
They loved.  They lost.  They survived.
Now, time has passed, and they face the challenges of aging.  But on the inside, they're the same person.  They've lived through life and figured it out.
We can learn from that.  We don't have to walk their journey, but we can gain a perspective that can be priceless.
So, how do we learn their perspective?  Here's a practical outline:
Spend unhurried time with them.
Ask specific questions about their life:

"What was dating like when you were a teenager?"
"What kind of stuff did you do after school?"
"What kinds of things were you passionate about?"
"Tell me about your first job."
"What kind of relationship did you have with your parents?"
"What were you afraid of growing up?"
"What would you have done differently if you could live your life over again?"

Listen carefully as they talk. Write down things they say.  Ask clarifying questions.
Ask them about a challenge you're facing with your relationships, your job, your health or your plans for the future. "What would you do if you were me?"  You don't have to do exactly what they say, but you'll gain their perspective.
Sure, some older people have mental impairments that make it tough to communicate.  Others have just become bitter about life and aren't interested in sharing.  We can still value them by listening, but might not get much in return.
But if we don't talk to older people, we're missing out on one of the most valuable resources available to help us navigate life: Perspective.
Older people have stories.  Many of them are simply waiting for you to ask.
We'll go to a theater and pay money to watch a fictional story about someone's life, and we give it our undivided attention for two hours.
What if we talked to a real person about their real story instead?  They might just be a living Wikipedia about life.
Here's the challenge: Sometime this week, talk to an older person, and just listen.  But instead of seeing them as not having anything to offer, approach the conversation with expectancy.  Don't do it for what you can get out of it; do it to simply have a human connection with another person.
I can't tell you what will happen.
But I'm confident you'll be amazed.  You'll think differently.
It could change the whole direction of your life!
Try it – then share your experience in the comments below.