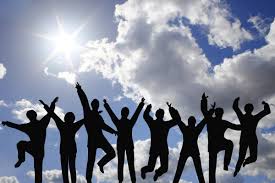 Today, four people said "Happy New Year" to me.
It's mostly a casual greeting, like saying, "How are you?" Nobody expects a serious answer, but it's a way of opening a conversation.  It's friendly, and it's nice.
But why "Happy?" Is that the ultimate goal for this year . . . that it's a chance to be happy and feel good?  Does it imply that last year was unhappy, and this is my opportunity for a do-over?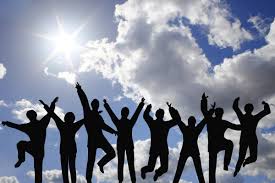 I don't think it's that deep. But I've wondered if there's a better word – something that really expresses what I'd like the year to be like.
I've heard people say "I wish you a prosperous New Year." Hmmm . . . that might be nice.
What about a "Peaceful New Year?"
Maybe an "Adventurous New Year?"
I kind of like "Interesting" myself.
Bottom line: When we wish someone a Happy New Year, we're really saying, "No matter what last year was like for you, I hope this new one gives you what you need to handle what the year brings you."
It's not really "happy." It goes beyond that.
What about Grace-filled?
I looked up "grace" in the dictionary. One definition said, "Mercy; reprieve; favor shown in granting a delay or immunity."
I have friends with cancer. I wish them a year of grace . . . reprieve . . . immunity.
I know people whose relationships are dissolving. I wish them a year of mercy.
Others are in financial struggle and can't see a way out. Others struggle with depression or addiction.  Others are gripped with fear when they simply watch the news.
I want the best for them. I want them to have a year of support and reprieve and mercy and love and miracles and breathing room and refreshment.
I want them to have hope. And grace.
I think it's OK to say "Happy New Year." But I hope we're a little more intentional about the meaning.  It means we care about someone, and want the best for them.
It means we're wishing them a year of grace.
What word would you pick instead of "Happy?"