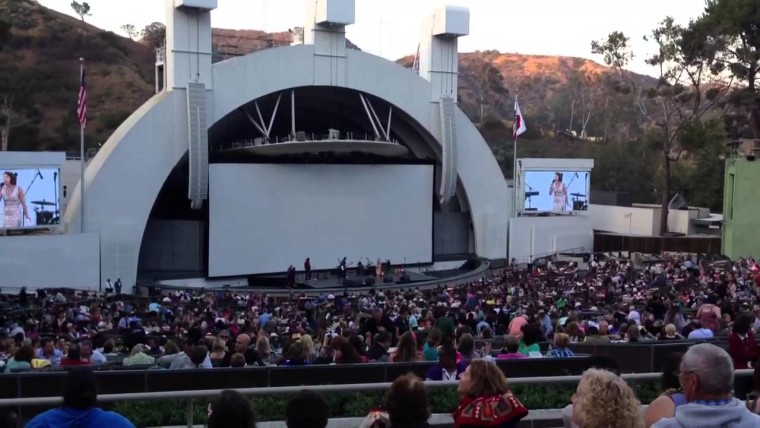 I must have been distracted.
So were 2500 other people.
The guest speaker was great, and the sermon was stimulating. People were engaged, taking notes and listening carefully.
But as I glanced around the room, I noticed that nobody was looking at the speaker. They were looking above his head – at the high-definition images of him speaking on the screens hung from ceiling.
They're big screens – really big. The idea is that people in the back can't really see the facial expressions of the speaker, so putting him on the screen makes it easier for them to see.
I think that's a valuable addition. It makes you feel closer to the action.
But as I looked around the room, I realized how strange it was. Here was a well-known speaker that people couldn't wait to hear.  But when he was on the platform, nobody was watching him.  We were watching the screen.
We were right in the room with him, and choosing the video version while the "real thing" was right in front of us.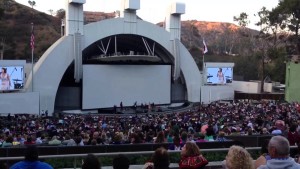 It happens at concerts, too. We've gone to outdoor concerts at the Hollywood Bowl, where we saw some really famous artists perform. We fought traffic and parking and crowds to be there, and paid a lot of money to sit on uncomfortable benches – just to catch a tiny glimpse of the artist.  Then we spent the whole evening watching them on the big screen.
I remember thinking, "I could watch this at home on TV."
I could. And I'd have a much better view than I would in an arena.
But there's something about being there, knowing we're breathing the same air as someone we admire. That's why we go.  We want to be there with them.
We went to a musical in Hollywood years ago ("Beauty and the Beast") with our good friend, Sheri. We got dressed up, went out to dinner first, and then looked for our seats in the theater.
They were in the back row. Literally.  If we put our heads back, they would hit the back wall.
That wasn't unusual, because we've often bought the "cheap seats" in order to be able to afford the concert. But it was before the days of massive screens, so we enjoyed it from a distance.
Afterwards, we were talking with Sheri about it. "Sorry the seats were so far back," we said.  "We didn't realize how far back they were."
"That's OK," she said. "We still had a great time."
I said, "Where do you usually get seats when you go to concerts?"
"The front row," she said. "I don't go that often.  But when I do, I save up and get seats right up front.  I want to experience the artist up close and personal."
We've never been in the front row at a concert. But it made sense.  If you want to see an artist live, you lose something if you're just watching on a screen.
So I've decided that I have two viable options for live events:
I can watch the high-definition images on the screen, but make sure I'm intentional about focusing part of my time on the live person on the stage.
I can get there early and sit in the front row. That way, I won't need the screens.
It's probably not realistic to do the second option all the time. But I need to make it happen occasionally.
In the meantime, I don't want the virtual to crowd out the visual. I want to be fully present.
I have enough screens in my life . . . so when I have an option, I want the real instead of the reflection.
So, I'm going to sit in the front row in church sometime. Not all the time, but occasionally.  It's not a natural place for an introvert, but it's an experience worth stretching for.
And I want to pick a concert that we really want to attend, and plan and save far enough ahead so we can be up front.
If we're close enough to the front that we can see facial expressions, we won't be interested in watching the screens.
Maybe it's time to move up front.
When you're a live event, do you find yourself watching the artist or the screen? Comment below . . .