My daughter, Sara asked me if I could build her a certain piece of furniture.  I said, "Of course."  In fact, I gave her a certificate for it for Christmas.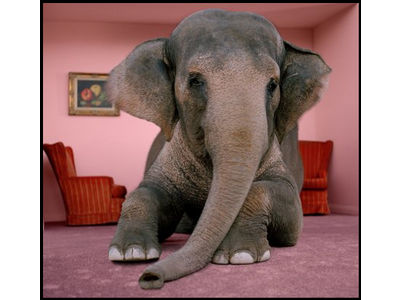 Two years ago.
The problem was that I didn't know how I was going to build it.  I do well with plans, but not making things up.  This one didn't have plans.
So I would think about how to do it, but couldn't figure it out.  So I set it aside for a week or two, thinking it would percolate in the background and I'd know what to do.
A week or two later, nothing had changed.  I wasn't any closer to a solution.  So I kept putting it off week after week, month after month – because I was stumped.
I've learned that when I don't know how to do something, my default setting is to procrastinate instead of jumping in and tackling something.  (For writers, it's called "writer's block" – not feeling inspired, so we put it off for another day.)
Whenever Sara and I would talk, I carefully avoided the subject. For some reason, I didn't want to let her down or appear incompetent.  Sometimes I would say, "I'm going to Home Depot tomorrow to buy wood."  And I went and got the wood – but still didn't know what to do with it.
Since we weren't talking about it, she didn't know what was happening.  I assumed she was either irritated or disappointed in me.  But I never asked, so I never knew for sure.  I didn't want to know.
A few weeks ago, I realized that it had created an unspoken barrier between us.  Here is one of the people I enjoy talking to the most on the planet, and want a close, loving relationship with.  But my silence was building a wall – and had been for two years.
Once I figured out what was happening, I went to her and told her what I was feeling.  I apologized, wanting to do my part to remove the barrier I had created.
As we talked, she said, "Yeah, it was the elephant in the room."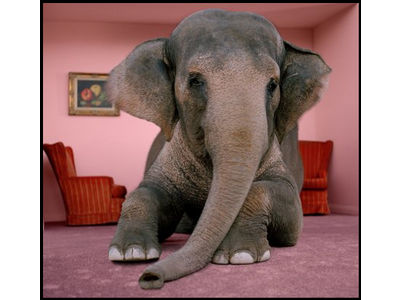 That's a word picture we've all heard and experienced.  It happens when there's something that's obvious and nobody talks about, and we pretend it's not there. 
I pictured the scenario.  I'm sitting on one side of the living room, and my daughter is on the other side.  We're peering through the elephant's legs, trying to make conversation.  It smells, and it fills the room.  It's noisy.  It's huge.  But we don't talk about it.
Once we acknowledge it, we think, "How in the world did that huge elephant get in this room?  It doesn't even fit through the door!"
That's when I figured out the answer:
The elephant came in when it was little.
If we wanted to remove it when it first entered, we would simply guide it back through the door.  But by letting it stay, it grew and grew and grew.  Getting rid of it would be a much bigger issue because we waited.
My daughter said, "You know, if you had told me you couldn't figure it out, we could have spent a day together working on it until we knew what to do."  That would have been an awesome day with her.  One of our favorite dates is to get coffee at Starbucks and cruise around Home Depot.
I love my daughter.  And I love the fact that we got rid of the elephant. 
The furniture still isn't done.  But I have the wood.  I figured out the plans.  I'll be cutting the pieces in the next few days and putting them together.
Mostly, I'll be letting Sara know how I'm doing.
We might need to go to Home Depot soon.
What's the lesson in all this?
Watch carefully for baby elephants in the room.  If you let them stay, they'll get really, really big.
Have you had to deal with the elephant in the room in your best relationships?  Comment here . . .