My favorite part of being in a baseball stadium is the grass.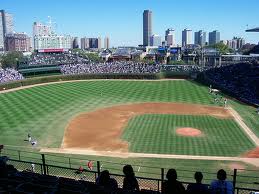 It's always perfect.  You know that the groundskeepers went to great lengths to get their mowing lines precise.  Relaxing with friends in the stands is always heightened by the park-like setting on the field.
Maybe I notice it because of my Dad.  When he mowed the lawn, the lines were always straight.  So today, that's important to me as well.
My dad was born in La Mars, Iowa.  It's a tiny little farming community, known as the "ice cream capital of the world," the home of Blue Bunny Ice Cream products.
I'm not sure exactly how much farming my dad's family was involved in, but he always loved working in our yard.  Some of that heritage must have stuck with him.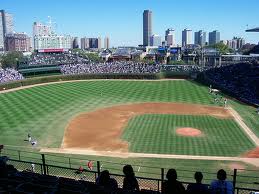 I remember him teaching me how to mow.  We had an old, non-electric push mower that looked like it had been picked up in an antique store.  I was small enough that I almost had to reach up to grab the handle.
"If you want a straight line, look across the yard and pick a spot at the far edge – exactly where you want to end up.  Then walk towards it with the mower.  But never take your eyes off that spot.  Don't look down.  Don't look at the mower.  Don't look back.  Just stare at that spot until you get there."
I stared straight ahead and started moving.  I could feel the mower tossing back and forth as it hit uneven ground, gopher holes and low spots.  I figured it would be a complete disaster.  But I kept staring at my destination.
When I got there, my dad said, "OK, turn around."
I did.  I was amazed.
The lines were perfectly straight.
I tried it a few more times with the same result – perfection.
Then I got arrogant, and took my eyes off the target, glancing back halfway-through to see how straight my line was.  When I looked back, there was a sincere detour right where I had turned around.
"Why does that work?" I asked.  "The ground is so uneven, and the mower is tossing back and forth.  How can it make such straight lines?"
"When you look at the lines," he said, "you try to make corrections based on what's happening around you.  When you look at the target, your corrections are based on where you want to end up."
The life lessons are obvious.
If we keep our eyes on the challenges we face daily, we lose track of the end result.
If we focus on the goal, it automatically helps us make the right choices.
Make some straight lines today.
Then eat some ice cream to celebrate.