There was a rat in our house last summer.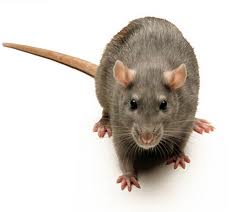 We didn't see him, but the droppings under the sink and the half-eaten fruit on the kitchen counter told us he was there.  Our best guess was that he had come in from under the stove, through holes made in the floor for gas lines to come through when the kitchen was remodeled a few years ago.
We didn't want a rat in our house.  So we bought a trap and put fruit in it.
The next morning, the fruit was gone, and the trap hadn't been tripped.
The rat was still there.
Day after day, we tried to catch the rat.  We put different types of bait in the trap – peanut butter, seeds, nuts.  Day after day, he got the treat and avoided the trap.
We went to Home Depot to see if they had better solutions.  They had had plastic traps, glue traps and poison packets.  They had little boxes with toxic pellets for the rats to wander into.  They had electronic solutions.
We bought the poison packets, and slipped a couple under the stove.
It worked.  All signs of rats disappeared.
For a month or so.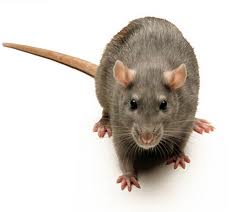 We think it was his Mafia uncle who came looking for revenge.  This time, he not only got the treats and avoided the poison, but chewed through the power cord on our dishwasher so it stopped working.  The expensive repairman said, "A rat chewed through this."
The poison packets seemed to work again.  But within a few weeks, we found more evidence – not just in our kitchen, but in the living room and the family room.  We set traps and put out the poison traps.
The good news was that the trap worked for a large rat. 
The bad news, we discovered, was that the big rat had a whole litter of baby rats living under that couch, who promptly scattered throughout the house.  We didn't know how many there were.  Just when we thought we had gotten rid of the last one, we would find one climbing a doorframe while we were watching TV, or skittering behind the furniture. 
It was hard to sleep at night, wondering what kind of antics were taking place in our house.  It consumed our thoughts during the day, wracking our brains for solutions.  But we were committed:
We were going to get rid of the rats.
We went online to find out the best solutions.  We found forums and chat rooms where people shared their best solutions.  We found instructions on how to use different types of traps more effectively.  We tried them all with some success. 
Finally, after catching nine family members, the crisis seemed to be over.
We haven't had any since.  But we have no guarantee that they won't return.  If they do, we're prepared.  We're experienced.
We've become experts at extermination.
But there's one thing we've overlooked:
We haven't plugged up the hole under the stove.
If you had asked me, "Why don't you pull out the stove and plug up the hole?"  I would have said, "I don't have time – I'm too busy chasing rats."
I could go into a long application here about all the things we focus on that take our time and energy, but could be eliminated if we simply took care of the source of the problem.
But I think that's obvious.  I'll let you make your own application.
What are you doing that feels productive, but wouldn't be necessary if you dealt with the issue that's causing the problem?
What are your rats?
I'd love to hear your comments (below).